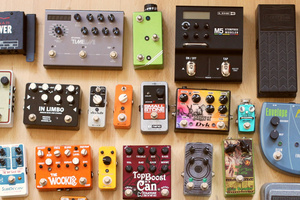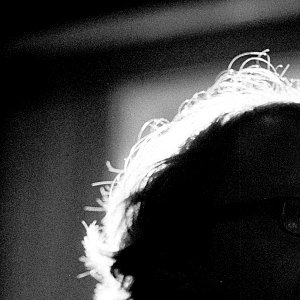 Sascha
Skeleton-Prince FX (80Tape) In Limbo Analog Delay demo
In 1988, I had a 8 channel mixing desk with a built-in analog delay. Sometimes I would send my guitar signal through it, sounded cool. After selling that mixing desk a few years later, I wouldn't own an analog delay for many years, until in 2014/15 I found this 2nd hand "In Limbo" delay by New Zealand based company Skeleton-Prince (meanwhile renamed to 80Tape).
My bandmate played a EHX Deluxe Memory Boy at that time, and it sounded great; with the "In Limbo", I found a pedal with similar features (analog audio with digital control, tap tempo with subdivisions, expression pedal) and sound options (not only dark repeats, but also brigher ones with reduced bass content), but with a smaller form factor, and the additional feature "hold footswitch for infinite repeats", which I already loved on my Strymon Timeline. Downsides included the need for 15 to 24 V of power and occasional signal peaks (as can be heard in the video), probably caused by design flaws in the compander circuit. When I decided to downsize my board, I sold it. Still, a great delay. 80Tape developed improved follow-up versions, the In Limbo II (discontinued), the In Limbo III Compact and the In Limbo III Multitap 1100 ms version which still seem to be available.
Comparing the "In Limbo", the EHX Deluxe Memory Boy and the EHX Deluxe Memory Man TT 550 (which I owned for a while, too), I found:
Strengths of the Electro Harmonix Deluxe Memory Man Tap Tempo 550 (and the very similar EHX Deluxe Memory Boy that uses cheaper bucket brigade chips):
Can be operated with standard 9 V pedal power supplies (In Limbo needs 15 to 24 V)
Tap tempo subdivisions can be easier selected, current selection is clearly visible (on the in Limbo, it's "press tap footswitch and turn delay time knob", with no visual indicator)
Subdivisions include 4th triplets and 8th triplets (in addition to the subdivisions offered by In Limbo: 4th, dotted 8th, 8th and 16th)
external send/return loop
(Only Memory Man:) Expression pedal can also control delay mix (in addition to delay time, feedback, modulation speed and depth, as available on the In Limbo and on the Deluxe Memory Boy)
(Only Memory Man:) external Tap Tempo input jack
Strengths of the Skeleton-Prince In Limbo:
small pedal board friendly size of 117 x 92 mm (EHX boxes are 146 x 121 mm)
cheaper than Deluxe Memory Man Tap Tempo 550, though using the same chips (yet still more expensive than the Deluxe Memory Boy)
great "hold tap footswitch to increase feedback level" function (also available on the Memory Man TT, but not on the Memory Boy)
low-cut tones available (also available on the Memory Boy, but not on the Memory Man TT)
more modulation waveforms (Sine, Sawtooth, Square; unfortunately no triangle)
"ARP" function, which is a rhythmical modulation of the delay time, see video; the "easter egg" function of the EHXs follows a similar principle, but is less useable in a musical context. The Chase Bliss Thermae takes this concept to the next level. 
Here's another vid where I use the "In Limbo", this time to replicate Andy Summers tones: