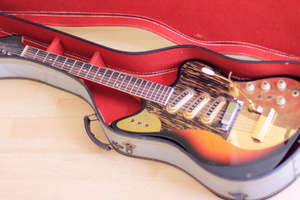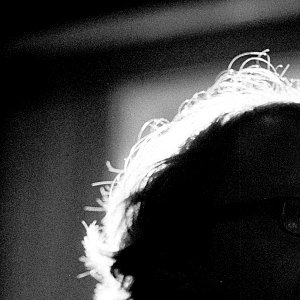 Sascha
1960s Framus Golden Strato de Luxe Demo (Model 5/168-54gl)
Framus is a German brand of guitar, basses and amps. The original company was founded in Bavaria in 1946. In the early 1970s, they became Europe's largest guitar manufacturer, but they went bankrupt by the end of the decade and stopped producing in the early 1980s. Framus company produced some interesting instruments, used by members of both the Beatles and the Rolling Stones. The brand was revived by Warwick in 1995. (https://de.wikipedia.org/wiki/Framus)

This is the second vintage Framus that I've played, and it's a very nice guitar. According to http://www.framus-vintage.de/modules/modells/instruments.php?katID=4626&instrumentID=3806&modellID=1520&cl=EN, the Strato de Luxe series was built from 1963 until mid sixties. Surely inspired by the Fender Stratocaster (hence the name), with the three single coil pickups and vibrato unit; but also with some features that are closer to the Fender Jazzmaster, like the asymmetric body shape, hotter pickups, style of switches and the vibrato unit type. So, here comes the demo vid:
Framus Golden Strato de Luxe played through my pedal board into a Vintage Sound Amps Vintage 15 (Fender BF Princeton Reverb clone with a old Weber 12" speaker inside) and a Real Guitars Little Leo (Fender Tweed 5E4A Super Amp clone with 2 x 10" speakers), recorded with a old Sennheiser 421 and a current production e606 mic through a RME Babyface Pro audio interface into Cubase.
All non-guitar sounds are coming from the Korg Electribe Sampler ES-2 groove box. All tracks were recorded live into Cubase, with only minimal postprocessing (volume levels, slight limiting, some bass cut). Pedals used on this demo include Dimehead Electronics patchbox, Boss ES-5, a Prostage Remote Wah Wah (mounted under the board, only used as linear boost in this video), a Kingsley Minstrel Overdrive, a Sonuus Volume volume pedal also used for compression and as noise gate in this demo, a Mooer Ninety Orange phaser, a Line 6 M5 (used as Chorus on some parts) and a Strymon Timeline doing delay and "Fake Reverb" (pattern delay). Video Contains a partial cover version of "Samba Pa Ti", © 1970 by Carlos Santana.
Here's a little photo gallery: